The first season of

this series

is over and

there have been many

situations and

changes that

have

been through

the American leadership

.

Some have

gone and some

come

for the new season

in the meantime

here

is a brief

summary of

the first season

,

with a short

story

so that you can

easily

complete it

.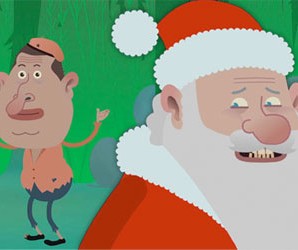 You can also
see an
additional
video
where
the protagonists of the
series
speak
and wish
you a Merry Christmas
!
Escucha el vídeo con atención y ayúdanos a completar toda la narración. ¡Buena suerte!
-En la primera ________de Isla Presidencial:
-Varios _______naufragaron y tuvieron que sobrevivir en una isla ______,
sin refugio, sin _____y sin poder...-
-Entre ______, peleas y juegos de _______. aprendieron a subsistir.-

Rey: - ______se calla! -

-Algunos ______en el camino, y otros nuevos llegaron a la _____de maneras misteriosas...-

Santos: - Levanten las _____-

Chavez: - Lugo, Piñera, Mujica -
En _______días ellos regresaran con mas aventuras, mas _____, mas ego y.....
mas ______.

Ortega: -las porristas-


Isla presidencial, nueva temporada...
Responde a estas preguntas:
1. ¿Puedes decirnos que presidente pidió un "caballito"?
2. ¿Qué fue lo que pidió Santos a "Santa"?
3. ¿Qué condición pone "Santa" antes de entregar los regalos?
4. ¿Cual fue la cena de navidad?
5. Sabes de quien es la culpa de que los regalos no lleguen a sus destinos?